Nemo+Ritu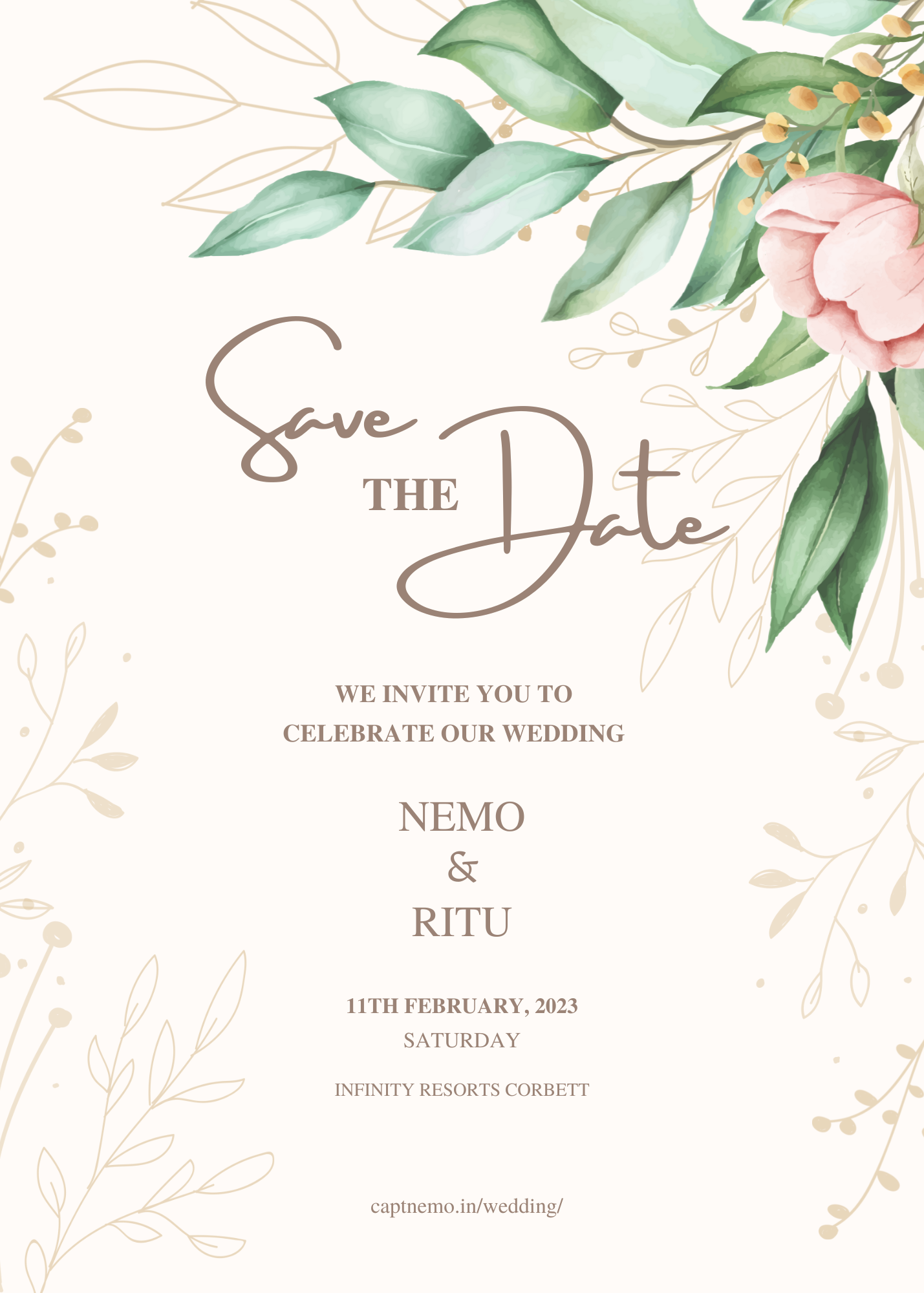 11th February 2023
Schedule of Ceremonies
10th Feb / Friday (Kashipur)
Sangeet/Mehendi (3-6pm), Ashish Vatika, Kashipur
Cocktail Party (8pm onwards) Ashish Vatika, Kashipur
11th Feb / Saturday (Ramnagar)
Haldi (10AM)
Wedding Lunch (2PM)
Wedding Ceremonies
12th Feb / Sunday (Kashipur)
Flying
The closest 2 airports are Bareilly and Pantnagar. Bareilly has flights to BLR and DEL, and Pantnagar only has flights to DEL.
Unfortunately, Indigo has reduced the BLR-BEK (Bareilly) flight to thrice a week (TUE/THU/SAT) on (7th/9th/11th/14th).
Bareilly to Kashipur is 3 hours by Cab, and Pantnagar to Ramnagar is 2 hours.
When to reach
If you're attending the Pre-wedding ceremonies, try to reach Kashipur by 9th evening, or the 10th early morning. (Suggested: 6E 6533 BLR-BEK direct flight on the 9th, followed by a cab to Kashipur).
If you're only attending the wedding, try to reach Ramnagar by the 10th evening before sunset. The Bride and Groom arrive the next day, so feel free to take a detour to Jim Corbett in the evening. Don't scare the tigers. (Suggested: 6E 7324 from DEL -> Pantnagar on 10th, followed by a cab to Ramnagar)
Other Travel Options
Shatabdi Express travels 6:20-12:00pm daily from NDLS to Kathgodam (+1 hour to Ramnagar)
Uttarakhand Sampark Kranti Express (15035) gets you to Kashipur at 8pm.
Delhi to Kashipur is 5 hours by road.
Delhi to Ramnagar is 6 hours by road.
How to Return
Suggested: Have breakfast (on 12/13th), and leave by 9AM to catch the 2:30PM flight to BLR (via BOM). 2:30pm-8:40pm BEK-BLR (with a 2 hour stop in BOM)
If you're staying for the reception, travel is arranged back to Kashipur. Post the reception (12th evening), you can take a cab from KSP-DEL or KSP-BEK, and fly from there on the 13th noon.
RSVP
Please drop me a message on Signal, with your travel details. If you'd like to make this into a trip, February is a great time to visit Jim Corbett, and Uttarakhand in general. Ramnagar to Nainital is barely 2 hours, and you can get to most of Kumaon within 4-6 hours from Ramnagar. Take a look at the KMVN website for destination suggestions.
What to wear
(Coming Soon)
Weather
Winters are chilly in Uttarakhand - expect 8-10°C at night, and pack accordingly.